Building Communities Resource Centre – Angela Mulholland, Community Outreach Worker
What impact is Covid 19 having on your organisation and the street or community where you live?
In our local community here in Portstewart, local people have been coming together to support each other during this pandemic.    I have had many calls from people offering to volunteer within the community and to assist with ongoing projects of support by driving deliveries, collecting and returning prescriptions, offering to do shopping for those who are currently self-isolating. I have been able to link people into the ongoing projects.
In my local street Harryville in Portstewart, neighbours have been communicating with each other over the fences, sending notes through the doors, supporting each other with offers of shopping, getting medical supplies if needed and just checking on each other ensuring everyone is ok. On a lighter note which is also important (sharing sun loungers, newspapers, sun cream and chocolate)
People have also got home heating oil to give to neighbours who have run out or who are waiting on deliveries. Other houses are empty, some are holiday homes so it is very good to see that these are empty and that people with second homes are adhering to government guidance in our street and staying at their primary home.
What actions have taken place at a local level? Have you been directly involved yourself?
Throughout this Pandemic, BCRC is continuing to be there for the local communities within Causeway Coast and Glens Council area and indeed for anyone who contacts us during this time. We have been responding effectively to immediate concerns and issues relating to the Pandemic though signposting, providing information and support where we can.  We have been proactive in compiling an information booklet with useful contacts and numbers to assist local communities, this has been included within Causeway Coast and Glens Council website as well as our own for wider access. We have been assisting local groups with funding applications for COVID-19, helping them to get financial help with projects such as the making of scrubs for the local hospital, and care homes. We have also been successful in gaining funding for other projects such as a mobile soup kitchen, in partnership with the local Tesco store in Ballymoney. We have been making a point of ringing round network members who are not on the internet, to keep everyone in the loop and to share mobile numbers so we can be reached if needed. Other COVID-19 projects have included activity packs for children and older people, policies and volunteer guidelines for the local RBL and for rural communities such as Dervock. We have also been facilitating zoom meetings and are able to deliver training, staff updates, meetings and other workshops on demand.
Have you an example of positive good relations at a local level?
One of the local estates 'Castleton Park 'in Portstewart has been doing a welcome sing song every morning blasting out the Neighbours theme music and dancing along. This has actually reached the ears of the Neighbour's cast in Australia and they have sent them a personal message link which I have attached.
https://planetradio.co.uk/downtown/entertainment/television/neighbours-cast-respond-to-portstewart-residents-viral-video-swaying-along-to-theme-tune/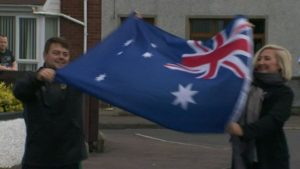 There is a definite sense of 'We are all in this Together,' which you can actually feel, it is almost tangible.
What are the challenges and barriers to your work at the minute?
The current situation brings many challenges, yet it is a time to put family, friends first. BCRC is continuing to provide its service to the community and to meet most of the funding objectives of our funders. We are still adhering to our action plans, completing evaluations, reporting on last year's work, planning for the next 3 to 6 months. We are also supporting our network members with looking to the future, planning for future projects and also looking at alternative ways to celebrate important calendar dates such as VE Day (75th anniversary) and perhaps the Twelfth through social media platforms.
What are your hopes for the future?
Our hopes for the future are that when this is all over people will remember the real togetherness, comradery, compassion and willingness to help others and that this will continue long after this crisis ends. Neighbourliness is the key word that comes out of all this and common humanity is definitely shining through.
YouTube video link