Funding Under Threat
The Department for Infrastructure has notified Fermanagh Community Transport that there is no certainty funding for the life-line Rural Dial a Lift Service beyond the 30th of June 2023. This will impact many of our most vulnerable elderly and disabled residents in Fermanagh, an area recognised as experiencing deep rurality, having the lowest population density in the UK outside the Highlands and Islands of Scotland.
If the funding is to cease at the end of June 2023, Fermanagh Community Transport will be compelled to terminate the service. This is a truly horrendous and heart-breaking position to be facing. We know what this service means to our members and the difference it makes to them and those who love and care for them. Testimonies from our members, their families, and carers, are profound and moving and speak to the powerful and transformative power of the service we provide, whilst also speaking to the deep stress, worry and anxiety which is being felt at the uncertainty surrounding the continuity of the service.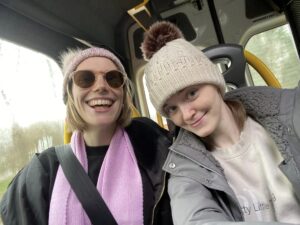 A Vital Member Service
We know that each of our 1083 members in the County depend on us to access the basic and essential services that allow them to live positive and meaningful lives in their communities close to their families and friends. In 2022 to 2023, we delivered 28,000 individual trips. Without our Rural Dial a Lift Door to Door service, many of these individuals would not see another soul from one week to the next. They would not get timely access to preventative GP, and hospital appointments. Many would be unable to get to day care opportunities, education and training. Others would be unable to come into town for essential shopping and to catch-up with family and friends and take part in leisure and recreational activities. There are no viable alternatives for most of our members, our service is an integral part of their life.
Given that approximately 95% of our members have a physical or psychological disability, many of their family members will be compelled to become full-time/part-time carers, give up current employment or reduce their hours to allow them to bring their loved one into whatever service or activity it is that they are dependent on/ engaged in. Private taxis are prohibitively expensive due to the distances involved and are largely unavailable, servicing Education Authority runs at peak times. A parent of a young adult attending day opportunities in Enniskillen shared with us that she was deeply burdened with the worry of how her son could continue to attend the centre if our Dial a Lift Service was to cease. She has been quoted £50 for a taxi one-way from her home for her son to the day opportunities centre which is 26 miles from Enniskillen. Her son attends 4 days per week which would result in a £400 weekly bill if they had the means to cover the cost! The same journey with FCT costs the family £6 one way, or £12 per day or £48 per week. The taxi service is simply not an option for this parent, and for the many parents and loved ones who have shared similar stories with me.
Members Views
'They (FCT) provided the only way my elderly mother could visit my father in hospital in his last month. Not possible by public transport here, 24 miles from SWAH.' FCT Member's daughter.
'My son with special needs uses FCT to access his day care provision a couple of times a week. It helps to promote his independence and as it collects him and returns him to the door, we know he is in safe hands. Hopefully funding can be found to keep the service running… to a lot of people it's a lifeline.' FCT member's mother
'Many of us need to attend appointments like anybody else but with no access due to previous services such as Translink being inaccessible or discontinued, our needs haven't changed so it can't suddenly be discontinued. We still need to get to our main towns and centre points.' FCT member
'FCT gives my younger sister her independence. It enables her to attend her Fresh Focus group and Now group in Enniskillen 3 days per week, where she is gaining new life, education and employment skills for her own future. She needs the door to door support that Fermanagh Community Transport provide to make this happen." FCT member's sister
We Shouldn't be Seen as a Discretionary Funding Stream
The direct and indirect human and financial cost of the current situation for our members and their families and carers is enormous and multi-faceted. Our rural vulnerable elderly and disabled communities will be disproportionately and profoundly impacted by this potential cut and or termination of funding. This should not be seen as a 'Discretionary' funding stream by the DfI, but as part of the wider public transport ecosystem and therefore ring-fenced. It is wrong that the most vulnerable by virtue of age, disability and rurality will carry the greatest cost and damage. FCT has been told by managers of two day opportunities and day care providers that they would most likely be compelled to close if our service ends. This would result in the loss of vital human interaction, engagement, and development opportunities for these servicer users.
The potential termination of the service could also lead to the termination of employment for 16 people within FCT thereby putting their livelihoods at risk, not to mention the letting go of 8 priceless volunteers, themselves providing enormous and incalculable value to the work of the entire team. FCT will continue to fight hard, along with the other rural community transport partnerships to retain this lifeline service. We know how much our work means to our members.
https://www.fermanaghcommunitytransport.com/