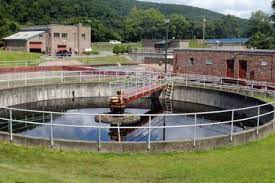 John Waddell; Chair, Rural Community Network; Board member, Rural Housing Association; Secretary, Poyntzpass Community Regeneration Company Limited blogs about wastewater treatment in rural villages.
Over the past 18 months for those of us lucky enough to live in a rural location with easy access to the countryside the physical and mental health benefits have become increasingly clear. While the move to increased home working is welcomed by many, an increase in the attractiveness of rural living, it has resulted in spiralling house prices in the private sector. As a consequence the need for high quality social housing in rural areas has never been greater but new build targets are repeatedly being missed.
The historic lack of investment in rural wastewater treatment works has a significant impact on the ability of rural villages to meet the demand for social housing. Across all of rural Northern Ireland community organisations have worked with the Northern Ireland Housing Executive to establish the need for social housing only to be let down by the lack of capacity in the system. A case in point being my own village, Poyntzpass, where our community association arranged and publicised two public community information events in our local hall; and encouraged people to select the village as their first preference. A decision not without risk for families as changing their 'area of choice', without any guarantee of availability, may adversely impact upon their chance of obtaining housing. Following all of this work, and investment by a housing association in developing plans and negotiating a site purchase, we were presented with the harsh reality that the current wastewater treatment system was at capacity. What was more surprising was that, due to resource issues, the village was not on the list for an upgrade and indeed it would be a number of years before an upgrade would even be considered. In other words, unless a housing association has the financial capability to provide an off-grid solution an effective ban has been placed on all further social housing development in the village. This has forced young local families with no option but to enter the ever more competitive private housing market, continue living with parents, or leave the area.
The economic and social sustainability of rural communities is dependent on providing the opportunities for individuals and families to live and work in a rural location. The current pandemic has demonstrated that an improved work/life balance of rural living is achievable and, I would argue, desirable. However, none of this can be achieved without the ability to build high quality, affordable, homes.
Minister Mallon's recent allocation of £344.5 million funding for essential water and sewerage services as part of her 2021/22 budget is to be welcomed but NI Water has identified a six-year requirement and to date the Executive has failed to fund multi-year programmes. Our concern is that the bulk of funding may be directed to major urban works. One can only hope that the obligation to 'Rural Proof' this investment will be fully undertaken.