Mary Watson, Secretary of Carnlough Community Association, spoke to Aidan Campbell RCN Policy officer about the downgrading of  the GP service in Carnlough Co. Antrim and how the community have responded.  This comes at a time when many rural communities across Northern Ireland are worried about GP services closing and problems with access to health services more generally.
AC Mary can you tell us a bit about Carnlough first for anyone who doesn't know the village?
MW Carnlough is a small village on the east Antrim coast between Larne and Cushendall.  It's part of Mid and East Antrim Council area but near the boundary with Causeway Coast and Glens council.  Approximately 1500 people live in Carnlough, and the main towns people access for shopping or services are Larne and Ballymena.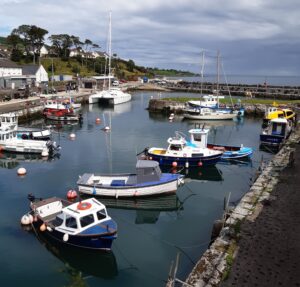 AC Tell us about what has been happening with the GP service in Carnlough.
MW Carnlough had a single doctor practice run by Dr Glover with approximately 1800 patients.  Dr Glover retired in 2018.  He had been trying to hand on the practice before he retired but without success.  So, there were several meetings with various Councillors and Health Trust staff about what to do next.  Dr John McSparran from Cushendall came forward and offered to take patients from Carnlough into his practice.  This was introduced as a temporary solution but operated successfully for three years.  A new prefabricated surgery building was installed behind the pharmacy in the village and approximately 1400 patients transferred over.  The remaining 400 moved to other GP practices in Larne or Ballymena.  This arrangement worked well providing a full GP service with a doctor, a practice nurse and two administrative assistants.  If you needed any other service, such as physiotherapy, that was brought in, and you would very rarely have to go down to Cushendall practice for anything.
People were happy with the new arrangement and assumed that would be the long-term solution.  We were notified on 1 April 2021 that the Northern Trust had withdrawn the funding allocated to Cushendall practice to cover the cost of providing the service in Carnlough.  Dr McSparran's practice continued to provide the service until Spring 2022 in the hope that the Trust would reconsider.  That didn't happen and they were forced to close the full time GP service in Carnlough.
AC How has that affected the residents and the community?
MW Well it's affected me personally.  I now travel to Cushendall to go to the GP.  Dr McSparran's practice still provides a part time GP service in Carnlough, but it only opens two mornings per week.  On those mornings a doctor is there from 9am-11am and a nurse from 9am to 1pm.  So, it's nearly impossible to get an appointment in Carnlough as its only feasible for the doctor to see about 8 patients in each two-hour slot.  Its 10 miles from Carnlough to the Glens of Antrim GP practice in Cushendall.  Larne is 13 miles away; Ballymena is 16 miles and many practices there are closed to new patients.
If you don't have access to a car, then you have problems trying to access the doctor.  The bus service only runs twice a day from Carnlough to Cushendall and back.  If you get the bus from Glenarm it doesn't connect with the service from Carnlough to Cushendall with a two and a half hour wait for the next one.  A taxi would cost £25 return plus waiting time from Carnlough to Cushendall which isn't affordable for most people.  People in Carnlough also have difficulty accessing community transport providers as we are on the boundary between North and South Antrim.  Apart from all that it's not great getting the bus if you aren't feeling well.  Home visits from GPs rarely happen anymore and are basically only to people who are terminally ill or to sign death certificates.  For all these reasons older people, the very sick and those without access to transport are finding it difficult to access GP appointments.
If you are working outside the immediate area, it's very difficult to get an appointment in Carnlough and its hard to get an appointment in the evening anywhere.  So, lots of people just don't bother trying anymore and if they are really ill, they turn up to Accident and Emergency in Antrim Area Hospital which puts additional pressure on their service.  Dalriada Out of Hours GP service is open but again, it moved from Ballymena to Antrim Area hospital, which is 27 miles away from us.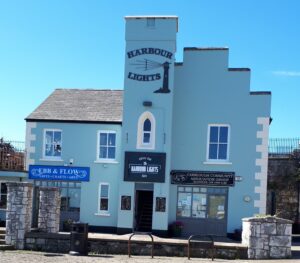 AC What action has the community taken to fight the partial closure?
MW Dr. McSparran requested support from Carnlough Community Association in May 2022.  We organised a public meeting in the village at the end of May attended by MLAs, Councillors, and the local MP as well as scores of local people.  We have held further public meetings which were well supported by residents.  Our MP wrote to the Trust and the Health Minister requesting a meeting on our behalf but unfortunately, that request wasn't granted.  We then set up a Save Our Surgery Action group which has submitted several freedom of information requests to try and access information on the Trust's decision-making processes.
We have also met with, and received support from, the Committee on Administration of Justice (CAJ).  Eliza Browning from CAJ has worked with us and, with her help, we submitted a complaint to the Department of Health on the grounds that they have breached the terms of their Equality Scheme.  We have also spoken to the Older Person's Commissioner, and they have offered to provide support to one of the older people in the community by advocating on their behalf with the Trust.  We received a reply from the Trust, which was unsatisfactory, and CAJ recently submitted a complaint, on our behalf, to the Equality Commission asking them to investigate the Department for a potential breach of their own Equality Scheme.
AC GP services are under threat in many rural parts of NI – what advice can you offer to other communities where this could happen?
MW When we held our public meeting back in May 2022, we were amazed that people from Fermanagh travelled up to offer support as they are facing similar issues with GP services closing there too.  Their advice was to keep battling.  I would say the key things people in a similar situation should do are seek as much help and support as you can.  We got support from our local MP, MLAs, and local councillors.  They requested a meeting with the Trust but got turned down.  They are still advocating for us.  We got support from Committee on the Administration of Justice, yourselves in RCN and the Older Person's Commissioner.
We are determined to keep fighting this because of the number of people in our community who live at such a distance to the next GP surgery and the lack of public transport.
Read RCN's response to the Department of Health's budget EQIA consultation here