Hi. My name is Emma Mc Aleer and I am the Project Coordinator on the 'Ours to Share' heritage project at the Rural Community Network (RCN), which is funded by the National Lottery Heritage Fund. The aim is to engage existing community groups who are members of RCN and to welcome new groups in exploring the diverse heritage of Northern Ireland. The project will support cultural and heritage projects that aim to engage new audiences and hard to reach groups using heritage as the catalyst. Over the next few months, we will be setting up a grant making scheme, providing training and skills in developing cultural and heritage work in communities alongside networking events for groups to meet each other, heritage organisations and funders to share knowledge and to support one another.
So, I thought I would introduce a bit about myself and what got me interested in all thing's heritage. As early as primary school, I knew I was a creative person. I enjoyed art and music, but I never felt the school environment supported my passion for the arts. But I persisted. I attended the Belfast School of Art and studied a Foundation in Art and Design and then a degree in Fine and Applied Art specialising in Textile Art. This is where heritage becomes the driving force in where I went next.
I was always visiting museums and heritage sites as a child. It was mandatory to visit museums when I and my sisters visited my aunt in Edinburgh. It was an unspoken rule. I have fond memories of trips to the Ulster History Park (now Glen Park Estate in Gortin), Carrickfergus Castle, Springhill House and the Ulster Museum, learning about local history, heritage and culture. So, it only felt right that when I was studying Textile Art, that I used my knowledge and understanding of museums as treasure troves of information to shape my artistic practice.
The Linen Industry was a huge influence in my degree work at art college. I was fascinated by the stories of the people that worked in the factories, in the countryside and most importantly, the role women had in the home that supported the industry. I visited the Irish Linen Centre and the Ulster Folk Museum throughout my studies for inspiration. The link to local heritage buildings/sites was important in developing my work and I will be forever grateful that I had that opportunity. Understanding the impact heritage had on my education was a light bulb moment for me as I felt empowered to pursue a career that would help others see the importance of our arts, culture and heritage in lifelong learning and education.
For nearly 9 years I worked in the museum sector, championing inclusivity and community engagement. I have been fortunate to have been involved in many amazing projects based on the importance of inclusivity, diversity, and participation in the heritage sector. Throughout this time, I learnt so much about making heritage accessible to diverse audiences. Heritage means something different to every one of us and the beauty of well designed, accessible heritage projects is that they provide that space for communities to be heard and express themselves openly and inclusively.
Since starting with Rural Community Network this year, I have been blown away by the creativity and diversity in the heritage work happening across rural Northern Ireland. I am really excited to provide opportunities for groups to explore their local heritage, create platforms for networking and to support groups and signpost them to relevant organisations and resources in the heritage sector.
Throughout the project, I will be blogging about upcoming opportunities, highlighting the great work happening across rural communities in relation to heritage and interviewing trailblazers in the sector exploring culture and heritage in creative and innovative ways. I am excited to learn more from rural communities and to have a wider discussion on what culture and heritage means to others. Please get in touch if you want to hear more about the project or if you fancy a general chat about all thing's heritage.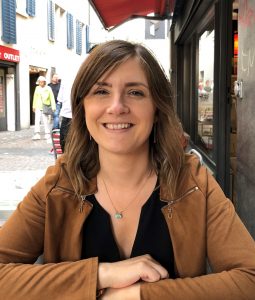 Emma Mc Aleer
Email – emma@ruralcommunitynetwork.org
RCN - NLHF programmes page