The B Word: Brexit, Borders and Belonging
20 Sep 2021
02:00pm - 03:30pm
Your opportunity to join a workshop exploring themes on belonging, borders and the impact of Brexit.
Click the link below to register
https://www.eventbrite.co.uk/e/167878301519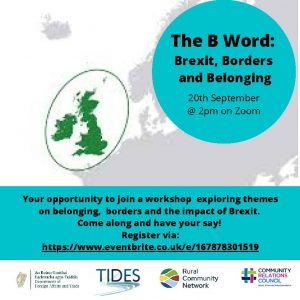 TIDES is currently delivering 'The B word: Brexit, Borders and Belonging' a project exploring feelings of identity and belonging in times of the political upheaval related to Brexit and the border, funded by the Department of Foreign Affairs, Irish Government.
Workshops will be delivered across Northern Ireland and the border regions, working with a cross section of groups representing a broad spectrum of our communities. TIDES would like to use this as an opportunity to listen to and amplify the different voices and perspectives present across the region.
These workshops will explore these challenging conversations through facilitated conversations that begin by discussing:
The places we identify as belonging to and what characterises those spaces.
Understanding this will help participants explore the issues of the border and Brexit in new ways.
Importantly this is also a chance for people to have their voices hear and discuss the impact of events in their daily lives.
Following the workshops participants will be offered to attend a follow up session with representatives from the different workshops to hear the diverse experiences and opinions generated through the project. TIDES will also bring together the ranges of voices into a report that will be shared with both the Department of Foreign Affairs and the Northern Ireland Office.
Register with Eventbrite