Living with Imperialism Legacies
10 Feb 2022
12:00am - 01:30pm
For 500 years European empires dominated and ruled the world. Inseparable from these empires were racism, slavery and colonialism. In various ways, Irish history was bound up with European imperial history. Many Irish served various empires, and many resisted.
This course will explore the history of empires, the slavery on which they were built, and the racially constructed world they created. Imperial history today is being written by those who experienced empire and colonialism. We are at a crucial point in global history. Understanding our global past can help us imagine and shape a different global and planetary future.
Register with kathryn@ruralcommunitynetwork.org if you wish to attend.
Starts Thursday, 10th February 2022 from 12 – 1.30 and runs weekly until Thursday, 24th March 2022.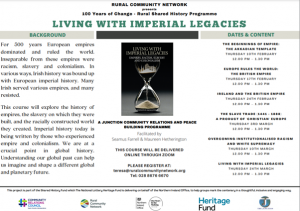 Click here to register